Baby Got Backstory is the ultimate insider's guide to business storytelling, brand storytelling, messaging, and communications for entrepreneurs, visionary leaders, and progressive businesses of all sizes. We ask inspiring creators, entrepreneurs, and storytellers to share their backstory by answering the questions: "Who am I? How did I get here? And Where am I going? Listeners will not only hear the story behind the story of our guests but understand how their own story and backstory have shaped who they have become. Your host, Marc Gutman, is a story nerd. He's served as Story Editor for Oliver Stone's Illusion Entertainment, and written stories and screenplays for Oliver Stone, Warner Bros., and 20th Century Fox. In addition to his time in Hollywood, Marc scratched the entrepreneurial itch by founding a multimillion-dollar tech company in Boulder, Colorado. Today, Marc focuses his ene...
Episodes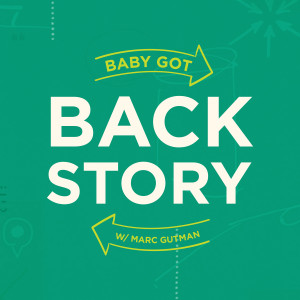 Tuesday Sep 18, 2018
Tuesday Sep 18, 2018
BGBS Episode 001: Dream Big, Work Hard, Create Value
He may not be as well-known as William Shatner, but Jeff Hoffman knows him. Jeff has gained global insight and experience from launching and growing various companies, including Priceline.com. His impact on how we travel and do things in life has been significant. Jeff has built a career by innovating through entrepreneurship and seeking out solutions that create industry shifts – from the way we book airline tickets to how we create entrepreneurship in emerging economies across the continents.
You'll Learn…
Purpose and process of starting Priceline.com was to create buyer-driven commerce and harvest consumer demand
Challenge for Priceline was on the consumer side – needed to get people to trust it and change consumer behavior
When you check in at airports today, you can use a kiosk that prints your boarding pass; you can thank Jeff for those kiosks and saving you time
Entrepreneurship is the tool, not the purpose of solving big problems; people complain when there's a problem, entrepreneurs are the ones to take action
Entrepreneurship went from being crazy and can't find a job to being cool; Jeff made a connection between goals and dreams with the work he could do
Jeff's Formula for Success: Dream Big, Work Hard, Create Value
Nothing is ever easy, and there are always obstacles; shake off failures and learn from them
Jeff spends time mentoring entrepreneurs around the world and teaching them how to turn ideas into businesses – making their dreams a reality
Badge of honor used to be working for a major company for numerous years; now it's about the gig economy where you have multiple jobs to reach fulfilment
Jeff uses stories to learn something and get his point across; makes customers the heroes of his stories
Be an entrepreneur with an eye for wonder and non-stop intellectual curiosity; what are successful people doing that others aren't doing?
Resources
Quotes from Jeff Hoffman:
"Entrepreneurship is a set of tools you use to solve a problem. It's a mindset and it's a tool set to take you anywhere you want to go."
"Solving problems and making things more efficient is a DNA thing for me."
"Nothing is ever easy. But nothing worth having is ever easy. There's always a lot of obstacles, which just makes the victory that much sweeter."
"Get to know them (customers). Listen to them, don't listen to what your competitors are doing."
‍