Baby Got Backstory is the ultimate insider's guide to business storytelling, brand storytelling, messaging, and communications for entrepreneurs, visionary leaders, and progressive businesses of all sizes. We ask inspiring creators, entrepreneurs, and storytellers to share their backstory by answering the questions: "Who am I? How did I get here? And Where am I going? Listeners will not only hear the story behind the story of our guests but understand how their own story and backstory have shaped who they have become. Your host, Marc Gutman, is a story nerd. He's served as Story Editor for Oliver Stone's Illusion Entertainment, and written stories and screenplays for Oliver Stone, Warner Bros., and 20th Century Fox. In addition to his time in Hollywood, Marc scratched the entrepreneurial itch by founding a multimillion-dollar tech company in Boulder, Colorado. Today, Marc focuses his ene...
Episodes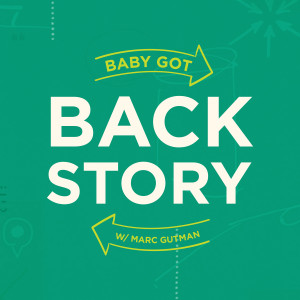 Tuesday Nov 13, 2018
Tuesday Nov 13, 2018
BGBS Episode 010: Hardwired to Stop and Make Things Better
Chris Warner is a quattro threat – mountain adventurer, leader, entrepreneur, and all-around great dude. He sketched out a business on toilet paper and ended up building the nation's largest indoor climbing gym company – Earth Treks. It's where people challenge themselves and love what they are doing – just like Chris. His mountaineering philosophy focuses on teamwork and looking out for partners. Coming home safe and alive is always more important than summiting. Chris's live-and-breathe fascination with building teams has turned him into a student of leadership and leadership teacher for teams that face challenges where failure is not an option!
You'll Learn…
Chris was an avid reader as a kid and got hooked on the romanticism of being outdoors – fishing, hiking, rock climbing, etc.
Outdoor guides dragged him into the woods as a form of scared-straight punishment, but he loved it and went from being a troublemaker to a leader
Discovered he could have a career in the outdoors and give people of all ages life-enriching experiences to discover their potential
Chris studied outdoor education, but found it to be a waste of time; you do outdoor education, you don't study it
Determination/resilience caused him to combine college, climbing, and curiosity
Chris has a history of seeking out and finding opportunities to help and guide others to make things better (altruism vs. heroism)
Mountaineering: Quantity, quality, difficulty mattered over taking the easy route
Chris uses his brain over brawn to solve problems and survive falls
Being the best version of yourself is addictive because it's empowering and humbling to help others
Tunnel Vision on Everest/K2: Chris was horrified when other climbers abandoned their partners or stepped over dying/dead climbers to selfishly make the summit
Taking personal and professional risks because of people pushing you
Power of teams focuses more on family and relationships than business; business is there to serve employees, and charity begins at home
People will forgive you, if you are nice
Resources
High Altitude Leadership: What the World's Most Forbidding Peaks Teach Us About Success
Chris Warner's 2002 K2 Expedition
Quotes from Chris Warner:
"The best way for people to find themselves was to first get lost."
"I just want to spend my life out in the woods, doing cool adventures."
"I am just so curious about the world."
"You stop and help when you think you can make things better."
‍